The biggest drawbacks of pig raising in Sushui County are as follows: First, the collected drowning water is disinfected and sterilized by high temperature. In addition to spending a lot of fuel costs, the staff is still very hard. The second is that the composition of drowning water is complicated and contains more toxic and harmful substances. Nutrition is also not very balanced, especially with scarcity of plant protein, relative excess of animal protein, and poor quality, so pigs are not fast growing. They usually take six to seven months to get listed, and they are often subject to various infectious diseases and parasitic diseases. The threat of sick pigs and dead pigs occurs from time to time, causing a great risk of losing money.

However, the correct use of Jinbaobao (Zhuishui) fermentation auxiliaries to make a safe fermented feed is very different. It can shorten the time for the sale (from the last six-seven months, and shorten it to five months or less). Significant savings in fuel costs, labor costs, labor intensity reductions, and full-price feeds are achieved or exceeded. The bred pigs have a ruddy skin with shiny, shiny, odor free smell throughout the pigshed and a fresh environment.

Yishui (Ziyu) Fermentation Ingredients: After drowning the water and drain it, add other materials and adjust the water level to about 60% (see the instructions for the judgment method, ie, grasping into groups and landing is appropriate). The reference formulas are: 1. 60-70% of drowning after draining; 2. 10% of corn flour; 3. 18% of wheat bran; 4. 1-2% of premix (should be formulated if it is to be fermented When the full-price material is added, the premix is ​​added, and when the full-price material is not fermented, the premix is ​​not added. The premix can be added after the fermentation, or can be purchased directly as a full-priced material and fed according to the formula) ; 5, two thousandths (0.2%) of Kinpo 2 type fermentation aid. After the good ingredients are prepared, the fermentation is sealed for one to three days and gradually added to 60% during use.

Paprika Powder is very convenient to eat for people. Our factory located in Jiaozhou city, Shandong province. we supply Paprika powder to Algiers market and USA market. We supply Paprika powder 80-120asta, 60-70mesh 5bls*6/30lbs carton , and we supply Paprika powder 220asta 60-70mesh, 20kg/woven bag to Algiers market. More and more customer like Paprika powder, we want to supply the paprika powder all around the world. At the same times, we join the exhibition in berlin and hongkong, we display our paprika powder to customer. Customer make the new product of Paprika powder in their market. Selling well. we must supply best quality to customer, and we trust we will stronger and bigger with customer.

by the way , we are also supplying Normal White Garlic 5.5-6.0Cm, Normal White Garlic 6.0-6.5cm , Pure White Garlic 4.5-5.0Cm , Pure White Garlic 5.0-5.5cm , Pure White Garlic 5.5-6.0Cm , Solo Garlic , Garlic Peeled , and Fresh Ginger 150g And Up , Air Dried Ginger 200G And Up, Air Dried Ginger 250G And Up, Fresh Carrot S80-150G, Fresh Carrot M 150-200G , Fresh Carrot L 200-250G , Fresh Chestnut 30-40pcs , Sweet Corn 220g and up 24pcs/ctn. if you have any needs, please do not hesitate to contact me.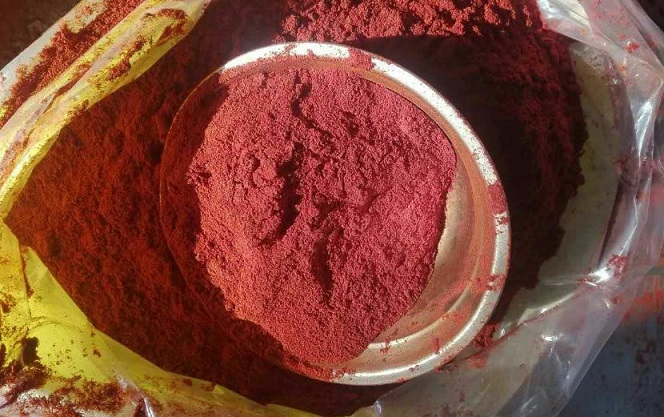 Name

Paprika powder

Size

60-70mesh 220asta

Sharp

Sweet and hot taste

Origin

Jiaozhou city, Shandong province

Available time

All around the year

Packing

1) 5lbs*6/30lbs carton

2)20kg woven bag

3)20kg, 25kg Kraft paper bag

Delivery Time

Within 10 days upon receipt of deposit to our bank account

Payment Terms

L/C,T/T,

MOQ

1X40`HR
please contact me :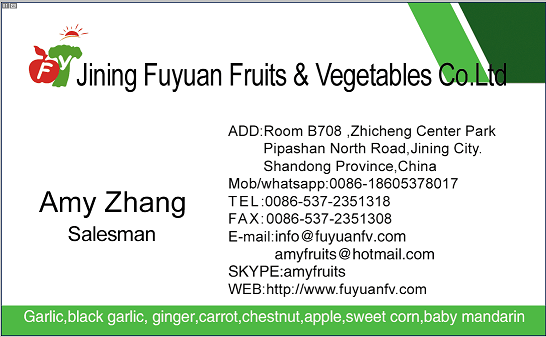 Paprika Powder 80-120 Asta

Dried Chilli Powder,Sweet Paprika Powder,Dehydrated Red Paprika Powder,Natural Pure Chili Powder

Jining Fuyuan Fruits And Vegetables Co., Ltd. , https://www.fuyuanfv.com